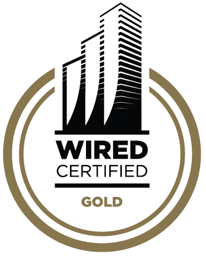 Everyone knows internet connectivity drives business. That's why our tenants can rely on a best-in-class digital infrastructure that supports their operations.
Ten Penn Center is proud to be Wired Certified Gold, which means we are recognized as having superior broadband internet connectivity and diversity.
We achieve this by providing tenants access to multiple high-quality internet service providers and a variety of cabling types, including fiber. The infrastructure measures in place ensure connectivity sources are protected, redundant and prepared to meet the needs of current and future tenants.
Key features of connectivity include:
Seven fiber providers that offer dedicated, business-grade internet access with guaranteed upload and download speeds
Redundancy provided in the form of multiple Points of Entry on different sides of the building, which allows tenants the ability to purchase physically diverse primary and back-up internet connections
Additional riser capacity available to support future needs of tenants and ISPs throughout the entire building
Housing of telecom equipment in a protected space, separate from other utilities, reducing the potential for service disruption
Documented agreements in place with carriers to support seamless and timely provision of services to tenants
Coaxial cabling to provide bundled phone, cable TV and basic internet
Dedicated risers to contain and protect telecom cables from risk of damage